The number of animals abandoned across England and Wales has soared by57 per cent, and the problem could be getting even worse, latest RSPCAfigures reveal.
The animal welfare charity dealt with 11,586 dumped animals last year, an average of more than 30 animals abandoned every day of the year – and the trend seems set to continue as figures from the first two months of 2009 show a further 1,432 animals abandoned.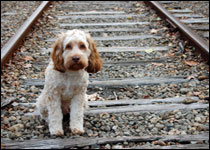 The number of calls from members of the public wanting to give up an animal is also up by 52 per cent.
The RSPCA is facing pressure on two fronts as the society tries to cope with the increase in workload caused in part by the recession, but also facing its own financial pressures. The fall in property prices is expected to reduce income from legacies and the recession is also likely to reduce donations to the charity, so the RSPCA is going to have consider cutting jobs.
As the 15th RSPCA Week begins (April 27 to May 3), the charity is asking the public to continue digging deep in their pockets and help raise funds for the thousands of animals the charity rehabilitates and rehomes – many of which are now coming into RSPCA care as the latest victims of the credit crunch.
Tim Wass, chief officer of the RSPCA inspectorate, said: "Now more than ever we need the public's support. It is a challenging time for the RSPCA, but more importantly it is a crisis out there for the animals, and it's only because of the public's help that we're able to do what we can."
The number of animals abandoned during 2007 was 7,347. That rose to 11,586 last year, a 57 per cent increase. Typical examples include:
A badly neglected dog dumped in a bin liner
Two cats dumped in a drawstring bag by the roadside
A litter of puppies found dead in a shoebox
A sick pony dumped on a common
The number of abandoned cats rose by 50 per cent, while dogs increased by nearly a third.
Mr Wass said: "It is an offence to abandon any animal and there is never any excuse for doing so. If people have pets they cannot care for, for any reason, then help and advice is always available from the RSPCA.
"We know things are going to get tougher. The RSPCA already works collaboratively with countless other animal charities and groups – this may well increase even further as we all work together to combat the current downturn."
Image ©iStockphoto.com/psychocy