Defra chief Owen Paterson has visited Dechra Veterinary Products to discuss latest developments and the challenges facing the livestock health sector.  
Challenges facing the food producing animal sector were discussed during a visit by minister Owen Paterson to Dechra Veterinary Products.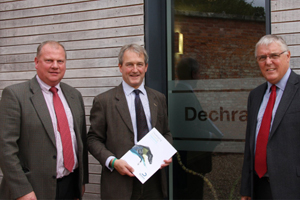 Mr Paterson, who is secretary of state for environment, food and rural affairs and MP for North Shropshire, toured the company's offices at the Sansaw Estate in Hadnall, Shropshire before meeting senior staff for an update on Dechra's business and the animal health industry.
It was Mr Paterson's first visit to Dechra Veterinary Products, which specialises in the development and marketing of licensed, branded pharmaceuticals in the global veterinary market.
Mr Paterson was greeted by Dechra's country manager for the UK and Ireland, Bob Parmenter, former chairman of the National Office of Animal Health (NOAH).
Mr Parmenter said: "We were delighted to welcome the secretary of state to our offices and grateful he took time out of his busy schedule to hear about developments at Dechra.
"We also discussed a number of challenges facing the animal health industry across livestock, pig and poultry sectors. His visit was well timed, as it came straight after he had opened the new Sansaw Dairy next door."
Mr Paterson added: "The Sansaw estate is home to some fantastic innovative businesses and Dechra Veterinary Products is one of those.
"What I also found impressive was the company's commitment to supporting those working in the veterinary profession, whether that's through funding research and learning programmes or donating products to projects where vets are working overseas."