PDSA figures show that more than 11 million dogs, cats and rabbits remain at risk of preventable diseases. 
More than 11 million pets could be facing a death sentence, according to the UK's leading veterinary charity.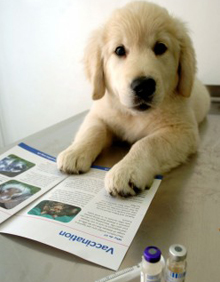 Research by the PDSA and YouGov shows nearly half of all cats, dogs and rabbits are not receiving basic preventive veterinary care, such as vaccinations and neutering, leaving them vulnerable to potentially fatal diseases including parvovirus and feline leukaemia.
The statistics from the PDSA's Animal Wellbeing (PAW) report show around four million dogs aren't vaccinated or neutered and the figures are even worse for cats.
Roughly 5.7 million cats in the UK are not vaccinated and 600,000 are not neutered, while nearly half the nation's rabbits have no vaccinations against diseases like myxomatosis and rabbit haemorrhagic disease.
PDSA senior vet Sean Wensley said: "For many pets, simple preventive health care is not being delivered. This can have devastating consequences for pets that can often go on to develop serious and potentially fatal diseases."
The survey showed a third of pet owners mentioned cost as a reason for not getting their pet vaccinated while more than a quarter felt it wasn't necessary.
"As a vet I can strongly recommend vaccination, as there are many infectious diseases still present and causing significant suffering," added Mr Wensley.
"As for the cost, this is often less than people think and is much less than the cost of hospitalisation and treatment if a pet becomes infected.
"Protecting your pet's health is a fundamental aspect of meeting their needs. Prevention is better than cure."
According to the new data, high risk areas for pets are the north-west and the west midlands where 55% of owners in both regions saying their pets have not had vaccinations or been neutered.
While the north-west and the west midlands were some of the worst areas, the situation in other parts of England, Wales and Scotland is still bleak.
The highest reported vaccination rate was only 55% in the south west of England with 51% of owners in Scotland saying their pets had been given primary and/or booster vaccines.