Neurosurgeons at the RVC Queen Mother Hospital for Animals (QMHA) have warned of the potential complications of microchipping very small dogs after a Chihuahua puppy was referred with a chip implanted in its brain.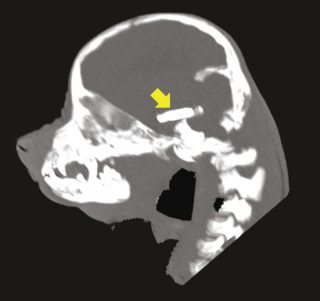 Scans showed the seven-week-old female, which weighed 750g, had accidental microchip placement through the caudal aspect of the skull and into the rostral brainstem.
The deep location of the microchip – which was implanted by a trained and legally authorised implanter who was not a vet – has meant the dangers in trying to remove it outweigh the potential danger of leaving it in situ.
RVC neurosurgeons say, had the microchip been placed a few millimetres in any other direction, it would have been fatal. The puppy is "a bit wobbly", but "happy, bright and playful".
Certificate of exemption
The case was highlighted in a letter to Veterinary Times signed by Frances Taylor-Brown, senior clinical training scholar in veterinary neurology and neurosurgery; Patrick Kenny, senior lecturer in veterinary neurology and neurosurgery; and Martin Whiting, lecturer in veterinary ethics and law.
They wrote: "We would like this case to highlight potential complications associated with microchipping very small dogs. In addition, we would like to raise awareness of the Certificate of Exemption [available from Defra], which can be provided by a veterinary surgeon in a situation where, in their professional opinion, implantation could adversely affect the dog's health.
"In a situation where a trained implanter is unsure of the suitability of a dog for microchip implantation, we would encourage them to seek the advice of a veterinary surgeon."
Read the full story in the 15 August issue of Veterinary Times.