Boehringer Ingelheim Vetmedica has extended its Metacam 0.5 mg/ml Oral Suspension for Cats range with the launch of a convenient new 30ml bottle size, which will last the average 5 kg cat for two months.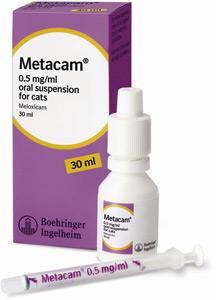 Providing greater prescription options for veterinary practices currently stocking 3ml and 15 ml bottles, the new 30ml bottle will enable owners to treat their cats for long-term chronic pain with a cost saving compared to purchasing two 15 ml bottles, says the company.
Metacam brand manager Andrew Francis said: "The new 30ml bottle of Metacam Oral Suspension for Cats will provide both veterinary practices and their clients with a product that is great for the long-term treatment of chronic pain in cats in one convenient pack."
For further information on Metacam, contact your local Boehringer Ingelheim Vetmedica territory manager or telephone 01344 746959.