RVN Sally Betterton shipped a stray kitten hundreds of miles to give it a new home, following her experiences volunteering in Crete.
A Kettering-based VN is celebrating the run-up to Christmas with a new family member, after shipping a stray Greek kitten hundreds of miles to the UK to give it a new home.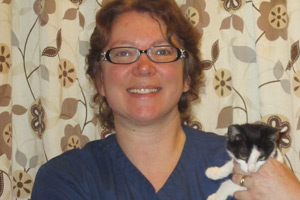 Sally Betterton, head nurse at Kettering Easipetcare, arranged for Ari the cat to travel the 1,000 miles by land to the UK, having spotted the kitten while volunteering in Crete earlier in 2012.
She was inspired to return to the island after coming across the charity Cretan Cat-a-List while on holiday in Crete in 2011. Cat-a-List was founded by British woman Jayne Butler and works to rescue stray cats in the Rethymo district of the island, providing free shelter and veterinary care, as well as running a neutering programme.  
Sally said: "Now that I'm home, Ari will be a permanent reminder of my time at Cretan Cat-a-List. She was found living close to a hotel's bins and had been attacked by dogs. Despite this, she is so friendly and getting on fine with my animals."
She added: "After the tough start she's had, I'm determined that she will experience a very different life with me."
While volunteering last year, Sally helped the local vet treat the district's stray cats for fleas, care for injured animals and carry out castrations.
"It's only when you are in another country that you realise that a problem we regard as easily treatable can cause such serious health problems when allowed to get out of control," she said.
Encouraging other VNs to get involved in Cat-a-List, Sally said: "I'll keep giving what support I can to Jayne for the sake of all the cats still there.
"If any other vet nurses would like to help her, she'd be delighted to hear from you and it's a very rewarding thing to do."
For more information on Cretan Cat-a-list, visit the charity's website.