Animal welfare and advocacy groups gather in London at the Animals in War memorial to remember animal war dead.
Representatives from animal welfare charities and advocacy organisations gathered to remember the military animals that have made a contribution to conflicts over the years.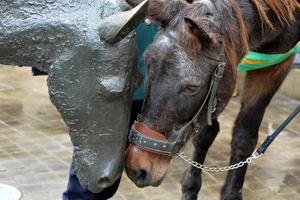 Dogs, horses and a mule, attended a special remembrance service at the Animals in War monument on London's Park Lane on Friday, November 8.
Unveiled in 2004 by HRH the Princess of Royal, the Animals in War monument was decorated with wreaths laid in memory and admiration of all the animals that died serving alongside their human allies.
Trustees of the Animals in War Memorial Fund (including David Simpson, chair of Petplan Charitable Trust) raised the £2m needed to build the monument through a national appeal and the consequent generosity of individual donors, charities and companies.
Eight million horses and donkeys died in the First World War transporting ammunition and supplies to the frontline. Many mules also served on the Western Front and in Burma, Eritrea and Tunisia during the Second World War.
They were represented at the ceremony by Polo the mule alongside The Irish Draught Horse Society (GB), The Donkey Sanctuary, The Horse Trust, The British Mule Society, World Horse Welfare, Redwings Horse Sanctuary, The Household Cavalry and Blue Cross.
Hundreds of dogs were also used to run messages, lay telegraph wires, detect mines, dig out bomb victims and act as patrol dogs.
They were represented by Florence, a cavachon, alongside Dogs Trust, The Kennel Club, PDSA, Battersea Dogs and Cats Home and Flora the Akita, alongside Blue Cross, RSPCA, Greyhound Rescue, Irish Terriers, NOWZAD and the Retired Greyhound Trust.
More than 300,000 pigeons served Britain in the First and Second World War along with elephants, camels, oxen, bullocks, cats, canaries and even glow worms.
The Animals in War Memorial service is organised by Dogs Trust and the Petplan Charitable Trust.
Dogs Trust chief executive Clarissa Baldwin OBE said: "This is a time of reflection on all those animals that served bravely alongside our servicemen and women during military conflicts.
"The Animals in War Memorial is a fitting tribute to each and every one and, no matter what their size, they will be remembered forever with our sincerest thanks."