European Medicines Agency discusses the use of colistin and tigecycline in animals and whether this has an impact on human health.
The European Medicines Agency (EMA) has announced it has provided advice to the European Commission (EC) on the use of colistin and tigecycline in animals after ministers asked for information on how their use in animals can have an impact on human health.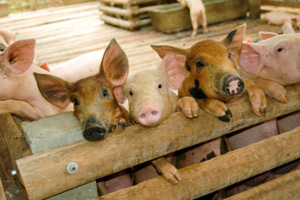 According to the agency, colistin and tigecycline are among the antibiotics that are life-saving for human patients suffering from infections caused by multidrug-resistant bacteria. With an increase in this bacteria, the EC is keen to learn more about the use of drugs used in both humans and animals.
The EMA has told the EC there is no available evidence on the transfer of resistance to colistin from animals to man. However, the agency also said there is limited information on the subject and more research and surveillance is needed. The advice therefore recommends maintaining the use of colistin in veterinary medicine, but restricting its use to treat infected animals and those in contact with them, and to remove all indications for preventive or prophylactic use. It also mentions the EC should determine the best way to amend the labelling and product literature for colistin-containing veterinary medicines to reflect this more restricted pattern of use, which is aligned with the principles of responsible use.
Tigecycline, meanwhile, though not currently approved for use in animals, is sometimes used off-label, said the agency. However, the extent of this is unknown. The EMA therefore advised there is no need for the authorisation of tigecycline for use in animals, but if the need for an approval of tigecycline as a veterinary medicine should ever arise in the future, authorisations "should only be considered on the basis of a positive benefit-risk assessment", which would take into account the risk of transfer of resistance to humans.
"However," said the agency, "based on the current situation, it is unlikely a marketing authorisation could be granted in light of the need for this antibiotic in human medicine".
The agency's response is the first to four questions raised by the EC related to the use of antimicrobials in animals and the potential impact of this use on human health and animal health. Future responses will be published at a later date.
For more information, visit the EMA's website.
Image © istockphoto.com/jamiehide