Two mechanical horses are aiming to kick up support for Sport Relief by encouraging London shoppers to climb into the saddle this weekend (March 24 – 25, 2012) at an event organised by the London Horse Network.
Two mechanical horses will be kicking up support for Sport Relief at an event being hosted by Westfield Stratford City this weekend (March 24-25, 2012) in conjunction with Pro-Active East London.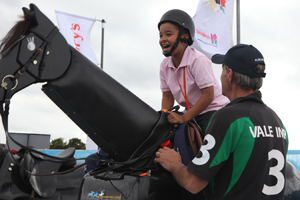 Mechanical thoroughbred Gavin and robo-pony Herbert are hoping to generate big bucks for charity by encouraging shoppers into the saddle, and perhaps even find some potential talent with prizes on offer to the best riders in various age categories.
The event is being run by the London Horse Network (LHN), with support from Hoof (an Olympic legacy project of the British Equestrian Federation).
Jodie Maile, volunteer chair of the LHN, said: "We plan to give the shoppers an experience of cantering in safety and hope they'll then be encouraged to have a go for realat one of the many riding centres in the capital."
Myf Ryan, general manager marketing at Westfield UK said: "We are excited at the London Horse Network coming to Westfield Stratford City to engage people of all ages in the sport.
"The weekend is to fundraise for Sport Relief as well as motivate our shoppers to 'have a go' and try something new. It'll add a totally different dimension to the other sports being showcased which include athletics, BMX, tennis, badminton, table tennis and wheelchair basketball."
According to David Gadsby, London representative of the BEF, the event will see the involvement of numerous LHN members as well as staff from the British Horse Society, British Showjumping and the Mounted Games Association of Great Britain – meaning lots of people for shoppers to learn from.
Online retailer www.aivly.com has generously donated adjustable riding hats for shoppers safety, while prizes will include money-off vouchers, free riding lessons and magazine subscriptions, courtesy of "Your Horse", "Eventing" and "Local Rider".