John O'Leary, from London, receives ban after he let horse suffer from its injuries as well as a mite infestation and malnutrition as a vet was not called at the time of the incident.
A man who caused a stallion to seriously damage its genitals after it tried to jump a five-bar gate has been given a five-year ban on keeping horses.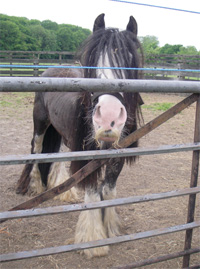 John O'Leary, 63, of Cranley Gardens, London, was found guilty by Chelmsford Magistrates of causing unnecessary suffering after the horse – called Little Man – was found by an RSPCA inspector to be suffering serious injuries to his genitals.
Rosie Russon, inspecting on behalf of the animal welfare charity, said she found the five-year-old grey roan cob standing in a field with injuries to the sheath of his penis, swelling from his genitals to his neck and a serious infestation of mites in his feathered feet. Blood tests showed he was also suffering from malnutrition.
On speaking to O'Leary, Inspector Russon found that the horse had been "feeling frisky" and tried to jump a five-bar gate to get to a mare in the next field. But he failed to clear it.
"He landed with his head underneath him looking backwards and his back legs caught on the other side of the gate," said Inspector Russon. "Apparently, a member of the public found him stuck and dismantled the five bar gate in order to get him onto his feet again."
A vet was called by Inspector Russon and the horse was taken away for treatment.
As well as the ban, O'Leary was ordered to pay £2,100 costs and fined £1,600, while Derek Boyce, 65 – who looked after Little Man, a mare and a filly for Mr O'Leary – was also found guilty of causing unnecessary suffering to animals and ordered to pay £2,100. He also received a 200 hour community service order and a five year ban on keeping horses.