RSPCA inspectors raided Peter Powell's home in Plymouth to find two marmosets living in squalid conditions and covered in faeces and urine. The defendant has also had to pay £2,000 in costs.
A man from Plymouth who kept his pet marmosets in squalid conditions and drove around town with them in his pocket has been banned from keeping monkeys for life.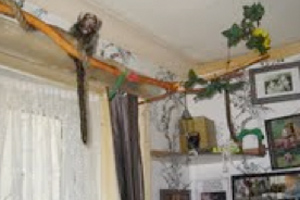 Peter Powell, 53, attended Plymouth Magistrates Court on November 30, 2012 and was found guilty of neglecting six-month-old female marmoset Tya and Rattler, a two-year-old male. As well as the life ban he was given a two-year conditional discharge and made to pay costs of more than £2,000.
RSPCA inspectors visited Powell's home last year and found the marmosets living in "appalling conditions". A razor blade, cigarette butts and faeces were scattered across the floor of the house and there was no evidence of the specialised food or suitable perching room necessary for the care of such mammals, the animal welfare charity claimed.
RSPCA inspector Becky Wadey said: "It was heartbreaking to see these poor little marmosets like this – their fur was sticky with faeces and urine and they were clearly underweight and in a bad state of health. It was later found they had rickets.
"Tya, the little one, was just crouched inside a dirty tube set up beneath the curtain rail while Rattler was balanced precariously on top of it. It is hard to understand how anyone could think this was an acceptable way to keep an animal."
According to the RSPCA, this was the third major case of marmoset cruelty since January 2012. Such cases have led the charity to renew their calls for a ban on pet primates.
Lisa Riley, primatologist for the RSPCA, said: "These cases show exactly why we are calling for a ban on primates as pets. Marmosets in particular are seen as small and easy to keep but this is far from the truth.
"They are very hard to look after and totally unsuitable as pets."
Image © Monkey World