A snowy white monkey has arrived just in time for Christmas at the Zoological Society of London (ZSL) London Zoo.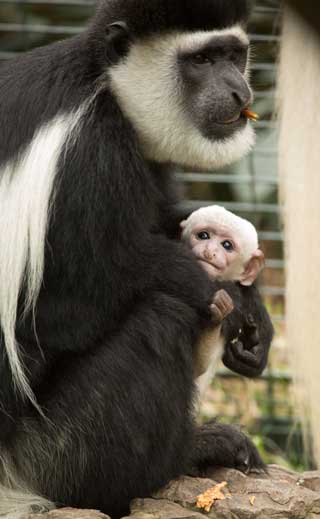 The black and white colobus monkey (Colobus guereza) was born to mum Sophia on 14 December after a six-month gestation and joins the zoo's 15-strong troop.
Zookeeper Tracey Lee said: "Our new black and white colobus monkey is covered from head-to-toe in startling white fur, guaranteeing us a white Christmas at ZSL London Zoo.
"The one-week-old's hair will eventually darken to resemble the bold monochrome look of his parents and siblings, but that won't be for a few months yet.
"We couldn't have asked for a better Christmas present this year."
The infant's name will be decided once keepers can determine its gender, but it will be given a moniker to match the zoo's tradition of naming colobus monkeys after bones in the body, joining siblings Atlas, Maxilla and Anvil.
Black and white colobus monkeys live in large social groups and all play a part in the upbringing of infants – behaviour already being seen at the zoo, with the infant's aunts queuing up for a cuddle with the new arrival.
Black and white colobus monkeys face threats in the wild from habitat loss and illegal wildlife trade, including being hunted for their fur and as bushmeat.