Raoul Dowding Veterinary Surgeons in Gainsborough has unveiled a range of new equipment and facilities – including a cutting-edge ultrasound scanner – following a £50,000 investment.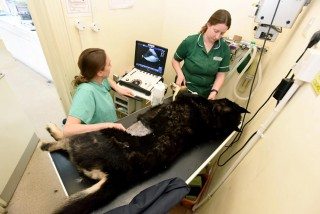 Included in the development is a new nurse consultation room, where pets can be treated for a range of issues, including:
vaccinations
claw clipping
dental checks
weight advice
The practice has also invested in improving client experience with a refurbishment of its reception and waiting room.
Best care
Dowding's clinical director Raoul Dowding said: "We provide clients and their pets with the best care and service we can, and that is reflected in our new facilities and services we offer.
"The new ultrasound scanner means we can better diagnose disease and illness to enable us to treat pets and hopefully get them on the road to recovery.
"All businesses need to make sure they are continually improving their service to clients and we aim to provide the best possible facilities, service and public areas."
The practice was established in Gainsborough 100 years ago, and was taken over by Raoul Dowding in 1999. It is now part of VetPartners – a collaboration of veterinary practices from throughout the north of England and Scotland.