A pony that resides at a rescue centre, whose foal was euthanised, has adopted a colt.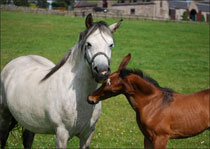 Lightning, a Welsh mountain pony, has been at World Horse Welfare's Belwade Farm in Aboyne, Aberdeenshire, since January. She was moved to the farm after being rescued along with a group of six other emaciated equines, including a stallion.
Pregnancy tests conducted on Lightning when she first arrived, and months later after she had gained considerable weight, were negative. Nevertheless, the pony gave birth to a filly in July.
Belwade Farm centre manager Eileen Gillen said: "We couldn't believe it when we found Lightning had given birth, especially after two negative tests. Sadly, after a couple of days it became apparent that the foal was brain damaged."
Following the euthanasia of the foal, Ms Gillen contacted the National Foaling Bank in Shropshire. Through the bank, Ms Gillen organised for an orphaned thoroughbred colt named Jerry to be brought to Belwade Farm. Jerry was under the care of the University of Edinburgh's Royal (Dick) School of Veterinary Studies before his move to Aboyne.
Commenting on the process of Jerry's adoption, Ms Gillen said: "We all held our breath as they were carefully introduced to one another, but to our relief Lightning took to him straight away, and she has been a fantastic foster mum.
"She even lifts her hindleg to allow him to suckle more easily. Lightning has been through so much; she is such an amazing pony. It was a very special moment and there wasn't a dry eye in the house."