Professionals from around the world took their first step towards achieving the MSc in Veterinary Education by completing a five-day residential course at the RVC.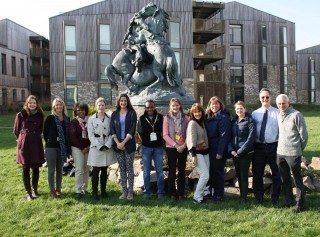 Led by Kim Whittlestone and Ayona Silva-Fletcher, the "Principles and Practice in Veterinary Education I" course shared the latest learning theories, including:
large and small group teaching
student learning
motivation and support
assessment and feedback
Course participants will continue their studies as distance learners, using the RVC's online platform with tutor support. Following successful completion of the course, they will become Associate Fellows of the Higher Education Academy.
Suiting individual aspirations
Mr Whittlestone said: "We enjoyed working with a dedicated and enthusiastic group of learners and look forward to discussing veterinary education with them online over the coming weeks."
It is possible to join and exit the MSc programme at any point to suit an individual's career aspirations, experience and qualifications. The qualification is available face to face with workshops on a monthly basis, or online with courses beginning in September.
Dr Silva-Fletcher said: "By offering a series of progressive, stand-alone qualifications we hope to better meet the needs of participants and to attract a wide and varied range of learners from across the veterinary sector".
The next residential course will run in spring 2017.