A cuddly canine so lazy she had to be bribed with ham to exercise has been crowned "pet slimmer of the year" after shedding more than a quarter of her bodyweight.
Bulldog
Daisy
, from Middlesbrough, beat off competition from huge hounds, fat cats and round rabbits in a bid to become PDSA's Pet Fit Club champ.
One of 11 obese pets selected to embark on the pet slimming regime, Daisy's transformation – which saw her lose 8kg, 27% of her original 28.3kg bodyweight – made her the top loser, according to judges of the six-month diet and fitness competition.
Kicking off the programme in May 2014, it was clear Daisy's passion for extra portions had caused her waistline to expand, along with her preference for hitching a ride rather than pounding the pavement.
Owner Gillian Turrell had tried to help Daisy slim – even encouraging her to go on a treadmill under her close supervision – but exercise wasn't Daisy's thing. When walking, in fact, she'd been known to jump into any available car to catch a ride home when she's had enough – hence her family nickname "Lazy Daisy".
"Daisy always begged for food, and has even been known to steal things out of the fridge," said Ms Turrell. "I also got into the habit of spoiling her with treats and titbits. The weight crept up slowly, and I didn't notice how big she'd got.
"When I couldn't get the car harness around her, and she was struggling to get up the stairs, I knew things had to change. When I heard about PDSA's Pet Fit Club, it was the perfect solution to helping her lose the weight."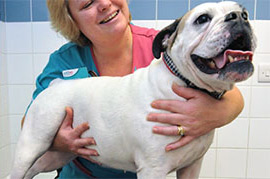 PDSA senior vet Elaine Pendlebury said Daisy looks "absolutely amazing" since shedding the pounds.
"The weight loss means Daisy will feel much fitter and happier, and her life expectancy may well be improved now than she's shed the excess weight," she said.
Ms Turrell agreed the difference in Daisy is "amazing".
"Losing the weight has really improved her mobility," she said. "Before, she struggled to climb the stairs – now she sprints up them, and she has a waist again. I'm so grateful to the vet staff at Middlesbrough PDSA Pet Hospital for their help and guidance, and for how they've helped to transform Daisy's life."
The 11 dieting pets have lost a combined weight of 30kg (4 stone 7 pounds) – the weight of a typical nine-year-old child.
Daisy was revealed as the winner of the fat fighting contest on new ITV1 TV show Fat Pets: Slimmer of the Year on January 9.