Large animal vets have been asked to submit their experiences of bovineTB (bTB) testing to help an association push for better pay.
As part of ongoing negotiations with Animal Health (AH), the BVA and BCVA are drawing up a time and motion study covering the tuberculin testing of animals at grass.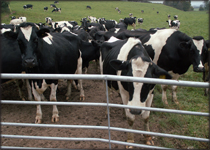 To date, AH has no plans to change the current headage payment system. The survey requires vets to record the details of one farm visit, including the time taken to administer and record the test, delays to the testing procedure and travel to and from the farm unit. The BVA is hoping for at least 1,000 completed forms to provide a good sample base.
BVA president Nicky Paull explained: "There is a need for the development of a proper understanding of the current fee structure when trying to compute the value of headage payments and hourly fee rates. We are relying heavily on the goodwill of practitioners in helping us with the proposed time and motion study. We would urge all official veterinarians to consider helping by recording the required information on at least one test and forwarding it to AH."
She said testing times were affected by a range of variables, including unit facilities and the availability of stockmen to help.
LVIs can print out the study at www.bva.co.uk
For more on this story, see issue 26 of Veterinary Times, out this week.