Vets believe a female killer whale found stranded on the Isle of Tiree died after entanglement in ropes, most likely active or abandoned fishing gear or creel lines.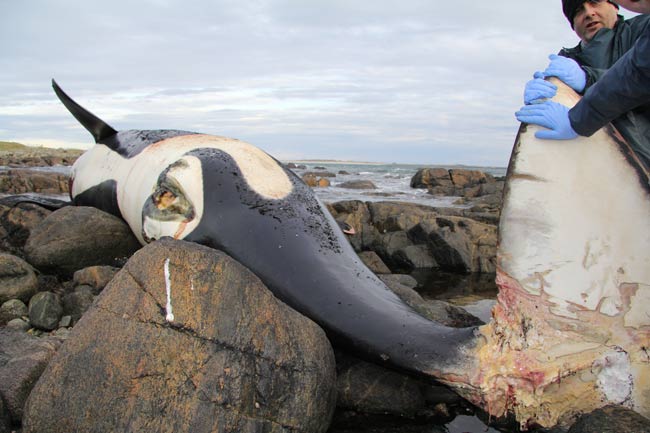 A postmortem was carried out by Andrew Brownlow and his team from Scotland's Rural College (SRUC), which coordinates the Scottish Marine Animal Stranding Scheme (SMASS).
Identified as Lulu, the adult orca was part of the only pod of killer whales resident in the UK, living off the Scottish west coast. This small population, dubbed the "West Coast Community", consists of nine whales and never interacts with migratory pods or had a calf recorded within the group.
Chronically entangled
This is the first killer whale the SMASS team have seen entangled; however, there seems to be an increase in the number of entanglement cases in other large cetaceans over the past year.
Commenting on the likely cause of her death, Dr Brownlow said: "We found convincing evidence that she had become chronically entangled and this was the most likely cause of her death.
"The deep wounds and abrasions we observed are consistent with 10mm to 15mm rope, likely still attached to gear of some sort, wrapping around the tail and dragging behind the animal.
"Normal swimming and foraging would have been made very difficult and we suspect the animal had been entangled for several days. There was a lot of seawater in the stomach and we suspect she eventually drowned because of the entanglement.
Tragic death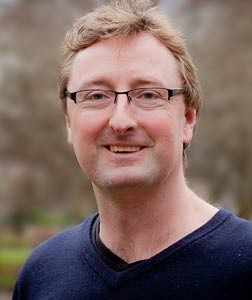 Although there were no ropes or fishing gear left on the carcase, Dr Brownlow said the lesions are very similar to those seen from creel rope entanglement in baleen whales.
He added: "Although deaths such as this are particularly tragic, we will be able to carry out further research and investigations on this animal, which should enable us to learn more about a poorly understood population.
"The samples we recovered can tell us the orca's age, whether she has ever been pregnant and possibly indicate any contaminant burden. Marine pollution and the effects this has on the health of marine mammals is an ongoing area of research for SMASS."
More than 500 marine mammals are stranded around the coast of Scotland each year, and any cases suitable for postmortem are examined by the team based in Inverness.
All dead strandings should be reported to SMASS. The project was set up in 1992, led by SRUC, funded by Marine Scotland and supported by National Museums Scotland. The project aims to collate, analyse and report data for all marine mammals (cetacean and seals), marine turtle and basking shark strandings.