As the 2013 edition of Crufts gets underway in Birmingham, The Kennel Club has released a behind-the-scenes video of what happens during a vet check at the show.
The Kennel Club (KC) has released a behind-the-scenes video of what happens at a vet check at Crufts.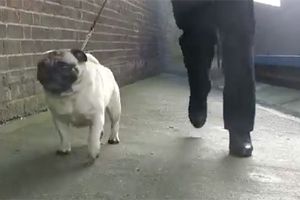 The five-minute video – released as the 2013 show begins today (March 7, 2013) – details what happens during the check, with the vet in the film assessing Percy the pug's:
eyes,
coat,
body condition,
breathing,
movement,
teeth, and
signs of lameness.
According to the KC, the film aims to show how "friendly and non-invasive" the vet check is, as well as demonstrating what the vet is looking for. The club said the film has been produced not only for the benefit of exhibitors and judges, but also for the veterinary surgeons involved in the process and anyone else interested in how the vet checks work.  
Caroline Kisko, KC secretary, said: "The veterinary health checks have caused some controversy since their introduction, so we created the film to show the veterinary health checks are a simple, straightforward procedure, with the health of the dog at their heart.
"The vet check process is a far more relaxed and friendly one than many people realise and the main consideration is always the welfare of the dog involved."
The vet checks – which are for 14 high profile breeds including French bulldog, mastiff, St Bernard and Shar Pei – aim to identify visible clinical signs of pain or discomfort caused to a dog as a result of exaggerations. They were introduced at last year's (2012) show and apply for all general and group championship shows. Every winning dog must pass this check before its best of breed or champion title is confirmed.
At 2012's event, 345 checks were carried out, with 330 passes, which equates to a 96% positive result.
You can view the KC's video below. For more information on 2012's vet checks, visit the KC's website.