Puppy buyers get added assurance as the club's Assured Breeder Scheme is awarded United Kingdom Accreditation Service authorisation.
The Kennel Club (KC) has become the first organisation in the UK to get United Kingdom Accreditation Service (UKAS) accreditation to certify dog breeders.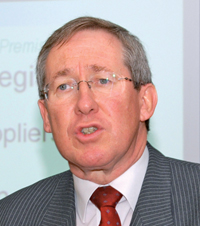 This means the Kennel Club now has recognition from the UK's foremost accreditation body to certify breeders against the requirements of its Assured Breeder Scheme and ensure that members take all the necessary steps to breed quality, healthy puppies.   
KC chairman Prof Steve Dean said: "For far too long, puppy buyers have had little assurance about the puppy they take home, and especially how it has been raised and whether it will live a healthy and happy life.
"The Kennel Club Assured Breeder Scheme was established in 2004 to help end this confusion, and is the only scheme in the UK that monitors breeders' activities to provide assurance on their commitment to health and welfare."
Accreditation by UKAS was recommended in Prof Sir Patrick Bateson's Independent Inquiry into Dog Breeding, published in January 2010.
However, Prof Dean said: "We had been working closely with UKAS prior to Professor Bateson recommending we seek UKAS accreditation, and are delighted that we have now been granted this, enabling us to certify breeders under this robust scheme.
"The message is clear. Puppy buyers who want to be sure that they are going to a breeder who offers a genuinely high standard of health and welfare in caring for their dogs should go to a Kennel Club assured breeder."
Prof Sir Patrick Bateson added: "My report into dog breeding in this country showed an urgent need for a robust accreditation scheme for breeders.
"The fact that the Kennel Club has now received UKAS recognition for its Assured Breeder Scheme is an important step forward and the buying public should be encouraged to purchase from these breeders, so as to put irresponsible breeders out of business."