As the nation settles into its stash of Easter treats, BVA and PDSA warn members of the public to keep chocolate away from pets as it poses a poison hazard.
As the nation enjoys all sorts of chocolate this Easter, vets are warning  the public to keep the treats away from their dogs, puppies and other pets because they pose a poison risk.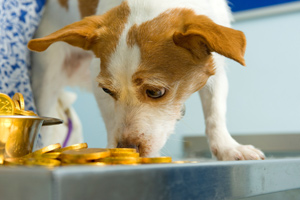 According to the BVA, awareness about chocolate poisoning among pet owners is increasing, but urgent cases are still common as chocolate treats have been left where pets can access them. The Veterinary Poisons Information Service cites chocolate poisoning in its top 10 list of common poisons and it was the number one enquiry for dogs in 2012.
Chocolate is toxic to dogs because it contains theobromine, which dogs excrete much less effectively than humans. It can cause sickness, diarrhoea and dehydration, as well as neurological and cardiovascular signs. Chocolate is also toxic to cats, rabbits and rodents, but vets say they see fewer cases of ingestion in these animals.
BVA president elect Robin Hargreaves has warned owners to contact their vet if they suspect any pet has ingested chocolate.
"Although fatalities caused by chocolate are rare they can and do happen, so it is essential to seek veterinary help and advice immediately," he said. "The quicker we can offer advice and treatment the better."
However, Mr Hargreaves also reminded owners that their vet may be operating different opening hours over the bank holiday weekend. "Make sure you know how to get in contact with your vet out of hours in an emergency," he said.
The PDSA has also warned about potential risks, saying it saw more than 400 potentially dangerous poisoning cases in dogs last year.
"Owners should store chocolates in the same way as medicines when they have pets in their household – safely and securely," said Elaine Pendlebury, senior veterinary surgeon. "If you can't resist giving them a little Easter treat, make sure it is something pet-friendly, suitable and safe. A new toy or a nice long walk is a good alternative."
Image © PDSA