Princess Haya of Jordan today officially opened Newmarket Equine Hospital's state-of-the-art facility in front of 300 guests.
Princess Haya – a former Olympic show jumper, president of the FEI (Federation Equestre Internationale) and owner of last year's Derby winner, New Approach – received a tour of the 15-acre site, which opened in September. She also received a behind-the-scenes visit to the surgery suite, whichwill be officially known as the HRH Princess Haya of Jordan SurgerySuite.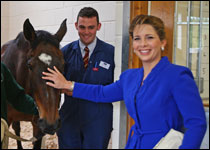 On arrival at the hospital, the princess was presented with a posy offlowers by Alice and Grace Wright, daughters of senior surgeon IanWright, before being formally introduced to the senior partners of thehospital.
Senior partner David Ellis commented: "We are absolutely delighted to welcome Princess Haya to Newmarket Equine Hospital and are thrilled that Her Royal Highness agreed to officially open the new facility of which we are immensely proud and will enable us to provide an even better service for all our clients."
Newmarket Equine Hospital has been purpose built with expanded facilities. The design of the main hospital building is an asymmetric cross with four wings: reception and offices, laboratory, diagnostics and theatres. In addition, there is a separate intensive care unit and an expanded diagnostic unit for advanced imaging modalities.