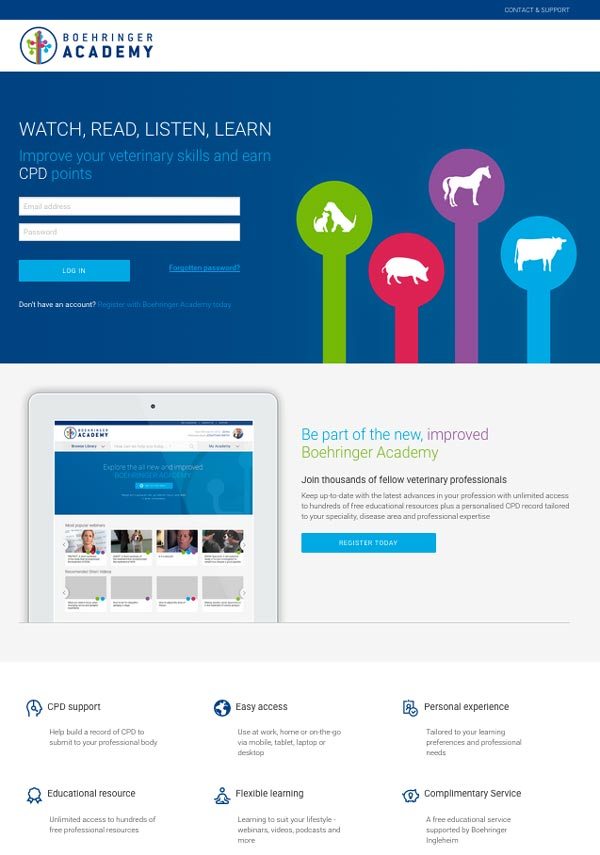 Veterinary professionals can access learning materials from Boehringer Academy via an artificial intelligence (AI) website, which, the company hopes, will offer vets and nurses a tailored one-stop shop of information.
The new site is free to use and operates a type of AI that uses pattern recognition to learn a user's habits to serve only relevant content. The technology is commonly used on consumer sites, such as Netflix and Amazon, but Boehringer said it has not previously been used in the veterinary world.
Webinars, podcasts and videos are available on the website, and Boehringer said a suite of reference documents will make it easier to automatically record and store CPD points.
One-stop shop
Boehringer brand manager Jemima Mead said: "We aimed to create an engaging portal – a one-stop shop for vets who want to access high-quality CPD and/or relevant information about any of our products.
"Vets are busy people, so need to find relevant information quickly – giving them more time to focus on their clinical responsibilities. Our new slick site, tailored to their individual professional preferences, provides a valuable service that has not existed before."
The site can be accessed at www.boehringer-academy.co.uk