Paralympic dressage rider and double gold medal winner Natasha Baker MBE visited the University of Surrey on 3 March to tell her inspirational story.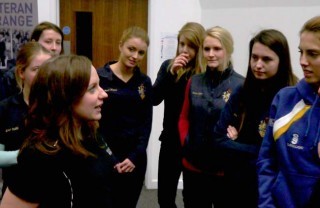 Natasha, who is a grade two para-equestrian spoke about her passion for the sport and how it had spurred her on from being a little girl with a dream to winning five European Champion titles, as well as two gold medals and record-breaking scores at the London 2012 Paralympics.
Natasha suffers from transverse myelitis and is unable to use her legs while riding, which means she must instruct her horses entirely through verbal commands and seat movements.
Nutritional advice
The talk was hosted at the University of Surrey's School of Veterinary Medicine and organised by the university's Equestrian Club.
Natasha also spoke about the importance of feed when maintaining a healthy and competitive horse. Representatives of UK-based horse feed manufacturer Saracens – which sponsored the event – were on-site to reinforce that importance and answer questions on equine nutrition.
Natasha is currently on the road to Rio 2016, with team selections just around the corner and a year full of competitions to get her there.