A vet has competed in her first eventing competition in more than 40 years after being inspired by a teenage rider's courageous fight against cancer.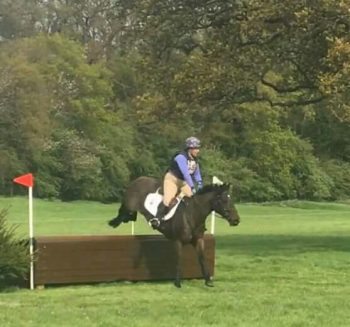 Jenny White, 56, from Hadrian Vets in Hexham, Northumberland, and her horse Heaven took on The Wobbleberries Challenge to raise money for The Willberry Wonder Pony charity.
Founded by Hannah Francis, a keen event rider who lost her battle with bone cancer in 2016, the charity raises money to fund research into cancer.
Taking it on
The Wobbleberries Challenge tasks riders above the age of 25 with little or no eventing experience to train and compete in an 80cm-class British Eventing course in just 12 months.
As an eventing competition, it includes three disciplines of horse riding:
cross country
show jumping
dressage
Inspiration
While Mrs White had been riding for more than 40 years, she had not competed since taking part in the Pony Club Championships when she was just 16. However, after months of intensive training, she entered the 80cm class in Dalston, Carlisle, finishing fourth out of 35 riders.
Mrs White said she joined the challenge after being inspired by Hannah's story, as well as her own event rider daughter.
She set a fund-raising target of £1,000, and with just a couple of hundred pounds to go, is still raising money to reach her target.