The eleventh International Companion Animal Welfare Conference (ICAWC) held in Budapest, Hungary, was a "resounding success", with a staggering 93 different animal welfare organisations being represented.
According to organisers, more than 187 delegates from over 38 countries attended the three day conference on October 7, 8 and 9.

Organised by Dogs Trust, ICAWC is the leading conference of its kind and provides a platform where delegates working in the field of animal welfare can network, exchange knowledge and gain support from their international contemporaries. In the words of speaker, Peter Kiraly of the Rex Foundation: "There is no copyright in animal welfare".
ICAWC founder and Dogs Trust Chief Executive, Clarissa Baldwin OBE, said: "We are delighted that so many animal welfare professionals came to this years conference despite the financial constraints of the global recession. ICAWC is obviously valued as a priority and an essential tool for anyone involved in animal welfare."
Over the three days, delegates heard from 22 world renowned speakers, took part in practical workshops and visited a working rescue centre in the heart of Budapest. Animal behaviour and training was a key focus of the conference as speakers focused on the importance of understanding the psychological as well as physical issues in animal welfare.
Sarah Fisher from Tellington Touch provided one of the most popular speeches as she explained her techniques and how they can be used on animals in rescue centres.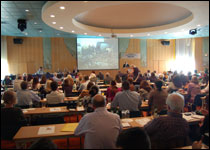 The conference also featured stories from the frontline with ex marine and founder of Nowzad Dogs, Pen Farthing, providing the most moving speech as he described his struggle to rescue stray dogs from Afghanistan.
Other topics included breeding control, microchipping, health and nutrition as well as setting up education programmes, the importance of publicity and fundraising and further training opportunities available for international delegates.
New technology also played a large role this year with workshops on building a website and using new media.
For those not able to attend in person, speech notes are available to download online at www.icawc.org. Next years conference will be held in Vienna on the 17-19th November 2010. Further information on ICAWC 2010 can be found online at www.icawc.org or by contacting international@dogstrust.org.uk