The huntsman from the Seavington Hunt in Devon has been fined £500 after admitting the offence of hunting a fox with hounds.
The huntsman of the Seavington Hunt in Devon has been fined after admitting hunting a fox with dogs.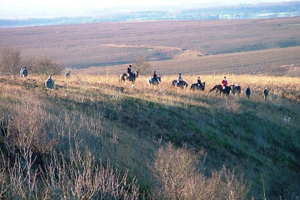 David Parker of Seavington St Mary, Ilminster pleaded guilty at Yeovil Magistrates' Court on September 12, to the Hunting Act offence, which took place in the area around Causeway Lane, Winsham in Dorset in January 2013.
He was ordered to pay a fine of £500, a £50 victim surcharge and £500 costs.
District judge Lynne Matthews dismissed the defence's plea for a conditional discharge and made the point that Parker had admitted the offence of fox hunting.
The court heard two wildlife crime investigators from the International Fund for Animal Welfare (IFAW) were filming the hunt on the Dorset/Somerset border when they saw a fox bolt from where hounds were searching scrub area.
The huntsman blew the horn and engaged the hounds in pursuing the fox. The hounds were not called off and the pursuit ended at an earth where the fox apparently managed to escape.
The footage shows the fox fleeing across the field, with the hounds following shortly after.
RSPCA inspector Jo Daniel said: "The footage, provided by IFAW, clearly shows the members of the hunting party searching the area, along with the hounds, before the fox fled and the huntsman pursued it.
"We cannot stand by while laws that are there to protect wild animals are broken and if sufficient evidence is provided to us we have an obligation to act to prevent further such offences from occurring."
Robbie Marsland, UK director of IFAW, added: "Hunting a fox with hounds is a cruel and illegal activity and IFAW's monitors will remain vigilant to ensure anyone committing such offences is brought before the court."