More than 1,000 delegates were treated to some world-class CPD and top live music at VET Festival 2016.
The festival, in its second year, is a two-day education event for veterinary professionals in companion animal practice. It was launched last year by Noel Fitzpatrick, of Fitzpatrick Referrals.
Billed as a fun approach to CPD, lectures covered orthopaedics, neurology, oncology and soft tissue, nursing, management and nutrition – all delivered by leading experts.
'Make a difference'
Despite being on crutches for the event – held from 4 to 5 June – Prof Fitzpatrick was delighted to welcome such a large crowd to Loseley Park in Guildford.
He said: "It is great to see so many people here today. This festival needs to be about you and your fulfilment. The only reason we do this job is because we want to make a difference every day and we think maybe somebody with a pet needs the best doing for them.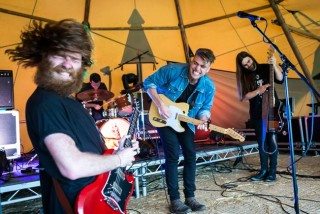 "That is what this festival is about for me and it is very important delegates go away after the two days feeling we have held your hand in trying to get you to learn the very best moving forward."
One Live music
As well as a busy exhibition and CPD from Nick Bacon, Ernie Ward and Prof Fitzpatrick, delegates got their dancing shoes on for VetFest Live on the Friday evening.
After a busy day of CPD on Saturday, including the keynote address from Sir Christopher Evans, vets were joined by thousands of members of the public for the One Live music event, featuring Scouting for Girls and Reef.