A kennel-sized replica of a detached house has won the inaugural Pet Pad of the Year competition. The winning residence – chosen by Marc Abraham and Dawn O'Porter – has all the mod-cons of a family home.
The expression 'in the doghouse' has taken on a whole new meaning as the winner of the inaugural 'Pet Pad of the Year' competition has been revealed by More Than Pet Insurance – and it's quite the slice of real estate.
The winning entry, announced on February 1, 2013, belongs to a two-year-old St Bernard called Wellington and is a painstakingly authentic half-storey replica of his owner's detached three-bedroom house in Derbyshire.
Standing at 6.5 feet tall, the canine crib even features all the mod-cons of a family home – including:
insulated walls and floors
carpets
glossed skirting boards
lighting
a slate roof
fully-functioning guttering
rippled Cotswold windows
Wellington's owner, Julian Kite, spent an impressive 84 hours building the canine's residence, which also has a fine gravel driveway, patio stepping-stones, ceramic statues, potted plants and hanging baskets.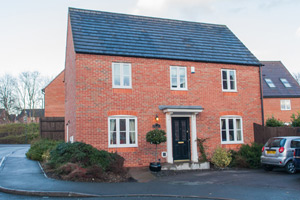 Such dedication to Wellington's home helped Mr Kite fight off stiff competition to win Pet Pad of the Year 2012 – a two month-long competition to find the UK's greatest pet pads – as chosen by a panel of judges, including celebrity pet lover Dawn O'Porter and TV vet Marc Abraham.
Commenting on Julian's entry, Dawn said: "I love the idea of Wellington having his very own property and land to roam. It's so grand and ridiculous that it's pure genius."
When presented with the £1,000 cash prize from More Than, Mr Kite said: "I can't honestly believe it. What an honour. Designing and building Wellington's house has been a hobby, so being rewarded in such a way is truly brilliant. It's just the beginning though, by the time I've finished with his kennel I'll probably want to live in there myself!"