The jail sentence dealt to James Gray following the Spindles Farm case sends out a "powerfulmessage to people who do not look after their animals properly", claims The Horse Trust.
The charity is currently looking after 11 horses, ponies and donkeys from Spindles Farm at its Home of Rest in Speen, Buckinghamshire.


Paul Jepson, chief executive of the trust, said: "This sentence sends a clear message that this wanton disregard for animal welfare will not be tolerated.
"This is a great result for the RSPCA. By banning James and his family from owning horses, we will be protecting thousands of horses from potential abuse. We are sending out a strong message to people who put profit before animal welfare.
"By giving James Gray a jail sentence we are sending out a powerful message to people who do not look after their animals properly. People are likely to think more carefully about how they treat the animals in their care if they know they are risking a jail sentence.
"We are glad that the RSPCA will be able to recoup some of its costs from the Gray family. They are leading the way in enforcing the Animal Welfare Act and deserve recognition for their hard work."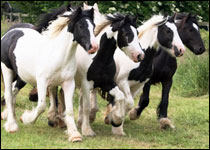 The Horse Trust has spent an estimated £150,000 over the last year looking after the horses, ponies and donkeys from Spindles Farm. This includes the cost of food, bedding, veterinary and farrier treatment.
"We won't be able to recoup the money we have spent from the Gray family, so are dependent on the generosity of the public to help us," said Mr Jepson.
"We have been touched by the generosity of people over recent months, particularly given the credit crunch which has forced everyone has to watch their pennies. We would like to thank everyone who kindly donated to The Horse Trust and would be delighted if they could visit us to see the difference they've made."
____

The Horse Trust took in two horses, nine ponies and three donkeys from Spindles Farm, after they were rescued by the RSPCA in January 2008. Since then, one of the ponies, Bill, has died. Two of the ponies were transferred to another sanctuary in August 2008.

The animals had numerous healthproblems, including Strangles, Salmonella infections, anaemia, parasiteinfections, impaired liver function, and internal organ damage. Bill'sdeath in January 2009 was caused by a parasite infection, which was sosevere that it could not be treated by worming drugs.

All the animals taken in from Spindles Farm were underweight and gained an average of 80kg in weight within the first four months.

Paul Jepson, chief executive and resident veterinary surgeon of The Horse Trust and Liane Crowther, the welfare and education officer of The Horse Trust were called as witnesses at James Gray's trial.