Horse trader James Gray has lost his appeal against convictions for animal welfare offences.
Horse trader James Gray has lost his appeal against convictions for animal welfare offences.
Gray's wife Julie Gray (42), and daughters Jodie (27) and Cordelia Gray (21) were also unsuccessful in their appeals. James Gray Junior (17) was acquitted on two charges, but convicted of the rest.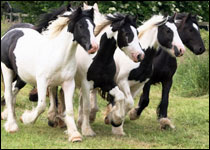 In a judgement delivered at Aylesbury Crown Court on May 6,
His Honour Christopher Tyrer
said: "We are satisfied that these
horses
were
neglected and starved
. It follows that the appellants [
James Gray and James Gray Junior
] failed to exercise reasonable care and supervision in respect of their protection and they knew or ought reasonably to have known that this would have that effect.
"We have found that all the appellants were responsible for all these animals and that they knew what was happening on the premises and took no action to alleviate the problems."
Referring to James Gray, he added: "We are satisfied that, at the time [the RSPCA] visited Spindle Farm in January 2008, these animals were not being fed or watered adequately or at all….he sought neither assistance nor veterinary attention to his animals and was still acquiring even more animals from outside, despite being unable to look after them or those he had already brought to the premises."
RSPCA inspector Kirsty Hampton, who investigated the case, said: "We're pleased the extent of the cruelty, neglect and suffering endured by the animals in this case has been recognised – and also the RSPCA's hard work and experience, which was crucial in successfully bringing the case to court." 
The court case and appeal has so far cost the RSPCA more than £1million, including veterinary treatment and care of the rescued horses. The investigation has been one of the RSPCA's biggest ever.
World Horse Welfare vet Andy Williamson, Nicolas de Brauwere of Redwings Horse Sanctuary, and vet Peter Green, who all gave evidence for the RSPCA, were praised by the court for their compelling testimony.
The Horse Trust, the charity that looked after some of the horses rescued from Spindle Farm, also welcomed the judgement. The trust's cheief executive and veterinary director, Paul Jepson, said: "We are delighted that the court has upheld the verdict. The last year has been very stressful for staff at the sanctuary as we were worried about what would happen to the horses we've been looking after if the conviction was overturned."
The Horse Trust is currently looking after two horses, six ponies and three donkeys from Spindle Farm at its Home of Rest.
The appeal against sentence will be held at 10am on Wednesday 12 May 2010 at Aylesbury Crown Court.