Entertaining an otter may be a challenge for some – but staff at a Scottish animal charity took the task in their stride.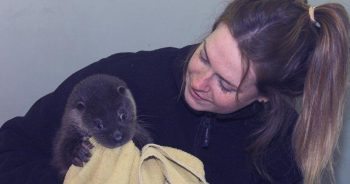 The Scottish SPCA rescued Eddy the otter as an eight-week-old cub after he was found alone on a riverbank, calling out.
The passer-by who found Eddy was asked to monitor him from a distance, but when his mother did not return, the charity took him to their national wildlife rescue centre in Fishcross, Clackmannanshire.
Playing up
As he did not have any siblings, a staff member had to assume the role and play with him several times a day to prevent him becoming too distressed or bored, and enable him to develop naturally through play.
But the situation changed with the arrival of 10-week-old otter cub Stream, who was taken to the centre when a member of the public spotted her struggling in the high tides.
Paired together
When the pair are at similar stages in their development, they will be put together and staff hope they will remain a pair until their release in spring 2018.
Centre manager Colin Seddon said: "Anyone who finds an otter cub that is calling should at first observe from a distance providing the cub is in a safe position.
"If the mother does not return before dark then the cub will need to be brought into our care. If the cub appears in anyway injured or ill, call our animal helpline immediately and contain the otter, if possible."
The Scottish SPCA animal helpline can be reached on 03000 999 999.