Pharmaceutical and veterinary products company Animalcare has unveiled a high-level infection control range.
Vetaclean Parvo Advance – an advanced formulation surface disinfectant-cleaner – is now available alongside Vetaclean enzymatic instrument detergent-cleaner and a high-level instrument disinfectant.
The disinfectant range is effective against a broad range of pathogens, with notably high kill activity against canine parvovirus and common feline viruses such as FIV, FeLV and feline calicivirus.
High efficacy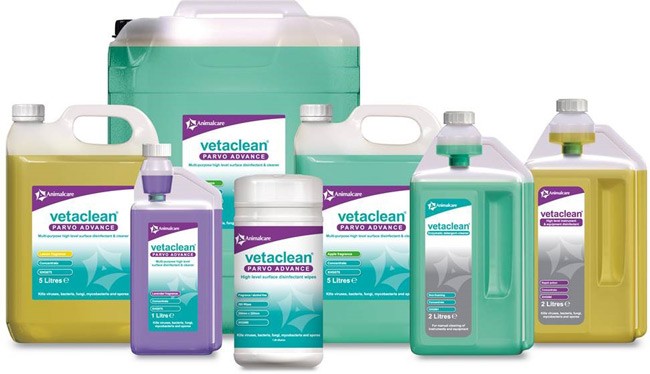 Animalcare product manager Tony Liepman said veterinary nurses had told the company canine parvovirus was the most challenging and resistant pathogen they worked with.
"Having at least 99.99% kill activity against parvovirus, our new disinfectants demonstrate high efficacy against a broad range of bacteria, including MRSA/methicillin-resistant Staphylococcus pseudintermedius, fungi, viruses, mycobacteria and spores," he said.
Rigorous biosecurity
Infection control is in the spotlight and highlighted by initiatives from within and outside the veterinary industry, said Mr Liepman.
"Firstly, the new practice standards scheme places great emphasis on having a rigorous biosecurity policy. This includes requirements for personal hygiene, as well as cleanliness of premises and equipment.
"High-level decontamination of instruments and equipment is ensured through the Vetaclean two-stage process, which works with even soiled instruments or equipment, and in less than 20 minutes.
"The products have also been designed to be suitable for use on the most specialised equipment seen in today's practices, including flexible or rigid endoscopes, ultrasonic baths, aspirators, arthroscopes and reprocessing machines."
Product details
The Vetaclean Parvo Advance range includes a 1L lavender product in a self-dosing bottle and 5L apple and lemon-fragranced liquid concentrates, as well as unfragranced large surface wipes.
Two dilution rates allow for economical use – a general purpose rate for most pathogens at 1:100 (10ml per litre) and a parvocidal dilution rate at 1:50 (20ml per litre).
The alkaline-based formula ensures the products are compatible with a wide range of materials and are non-staining. Both the enzymatic instrument cleaner and instrument disinfectant are available in 2L concentrates (incorporating a calibrated dosing reservoir).
For further information, telephone Animalcare on 01904 487687.