An appeal has been made for vets to drive research that may increase the survival rate of dogs with immune-mediated haemolytic anaemia (IMHA).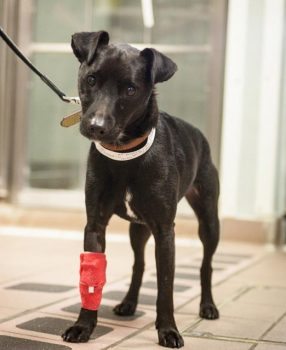 IMHA is a common haematological canine disease that destroys patients' red blood cells by their own immune system, leading to the development of anaemia. Treatment involves immunosuppression of patients.
Until immunosuppression is effective, patients can be supported with a range of therapies, including blood transfusion.
High mortality
Despite the increasing availability of transfusions, mortality for patients with IMHA remains high – reported to be between 30% and 70%. The AHT is working with other specialist centres on a new approach to the condition.
Despite the wide array of immunosuppressive treatment protocols described for the treatment of IMHA, best practice remains highly controversial.
Corticosteroids are typically accepted as a mainstay of therapy, although evidence supporting this is lacking. IV immunoglobulins are thought to have many potential immunomodulatory effects, and these include inhibition of phagocytosis and inhibition of complement activation, meaning this may be unique in its ability to accelerate IMHA remission.
The AHT received a donation of Pentaglobin, an IV immunoglobulin, from the family of a human patient hoping to put surplus stock to good use.
Pentaglobin is not a licensed or recognised veterinary treatment, but human immunoglobulins have been used in veterinary patients, with some studies showing promising results. The VMD has approved use of Pentaglobin for this study.
Research participation
Together with Dick White Referrals, the University of Cambridge Queen's Veterinary School Hospital and Davies Veterinary Specialists, the AHT aims to determine if administration of Pentaglobin at the time of initial diagnosis of IMHA in dogs is beneficial for their outcome.
It is hoped Pentaglobin will improve survival in dogs when given in addition to conventional therapies. As part of this multi-centre study, the collaborators need to test the drug's effect on dogs diagnosed with IMHA admitted to participating hospitals.
They are asking for any cases diagnosed to be highlighted to the most convenient study centre to participate in the research. Participation will be voluntary, with informed owner consent at the time of hospital admission, or once sufficient diagnostics are performed to meet the inclusion criteria.
For more information and what to do if you see a case suffering from IMHA, visit the AHT website or contact one of the following people: