Veterinary surgeons should help shape a future in which the profession continues to be trusted and valued, said outgoing BVA president John Blackwell.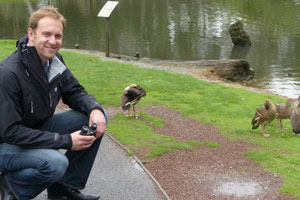 In his final presidential address at BVA members' day yesterday (September 24), he said young vets were the future of the profession but all vets had a responsibility to drive change.
Mr Blackwell, who continues on the association officer team as senior vice-president, handed over the presidential reins to Sean Wensley, PDSA's senior vet for communication and education at the charity's pet hospital in Belfast.
Small animal vet Gudrun Ravetz was elected junior vice-president.
A number of awards were also presented to vets:
The Dalrymple-Champneys Cup and Medal for work of outstanding merit, which aims to encourage the advancement of veterinary science, was awarded to Devon cattle vet Andrew Biggs for his contribution at national and international level to clinical practice in cattle health and welfare, particularly in the field of mastitis.
The Trevor Blackburn Award was presented to Bryony Jones for her contribution to animal health and welfare in Africa, particularly her work helping to eradicate rinderpest from Sudan during the civil war. The award also recognised Bryony's pioneering work training vaccination and surveillance teams, her community based epidemiology work, delivery of veterinary services in remote pastoral communities and her expertise and dedication to tackling animal disease – helping to improve both animal and human welfare in Sudan, Ethiopia, Kenya and Egypt.
The Harry Steele-Bodger Memorial scholarship was awarded jointly to two veterinary students entering their final year: Eluned Hyde for her research project on orphaned elephant calves in Sri Lanka, and Rob Hall for his attendance at the Summer Dairy Institute at Cornell University College of Veterinary Medicine in the United States.
BVA overseas travel grants were awarded to Eluned Hyde and Liliana Heinrich for projects in Sri Lanka and to Will Humphreys for work in Fiji. Two further grants supported by Vetwork UK were awarded to Louise Curtis and Catrina Prince for projects in Kenya and Peru.
The John Bleby Cup was presented to Bedford vet Julia Boness for her outstanding contribution to BVA council this year.
The Veterinary Record Impact Award went to Nathalie Porters and colleagues for two papers on prepubertal gonadectomy – or early neutering – in cats.
David Smith and colleagues at Moredun Research Institute won the inaugural Veterinary Record Innovation Award for Barbervex, a vaccine against the roundworm parasite Haemonchus contortus.