Students at one of the world's largest veterinary schools are developing their practical skills without setting foot outside the classroom thanks to a piece of technology that simulates real life situations.
According to staff at Utrecht University in the Netherlands, the Haptic Horse and the Haptic Cow simulators were introduced to students as part of preclinical week – and say the technology has helped enhance student confidence.
Haptic help
The Haptic Horse offers students the opportunity to learn how to carry out a systematic rectal examination of the abdomen of normal horses, as well as those who are suffering from or with:
colic
abnormalities such as dilated loops of the small intestine (twisted gut)
a pelvic flexure impaction (obstipation)
displacements of other parts of the large colon
At the heart of both systems is the Geomagic haptic device, which makes it possible for users to touch and palpate virtual objects.
Student support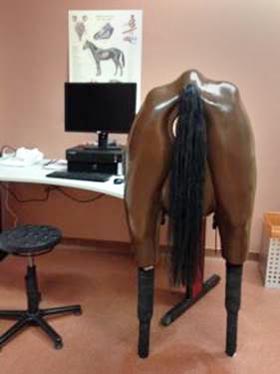 Also, because the animal's organs are visible on the computer monitor, the instructor can see what the student is doing and direct the movements.
Assistant professor in equine internal medicine Mathijs Theelen said: "We have a big caseload, but we have a strict policy that, in most cases, only one or two students are allowed to palpate the horse after their tutor. We therefore cannot guarantee each student will experience all the variety of displacements and abnormalities of the intestine.
"We also find, when students are performing a rectal exam in a live horse for the first time, they tend to be nervous and aren't fully focusing on the task in hand.
Providing solutions
"The Haptic Horse addresses these problems, making students more ready to learn from their first examination in a live horse by enabling virtual experiences of all the types of colic."
Both Haptic Cow and Haptic Horse were developed by UK vet, Sarah Baillie, and Virtalis markets and supports the systems around the world.