Nearly 50 per cent of dog owners do not realise that turning on central heating can result in fleas, according to research* conducted by Elanco Animal Health.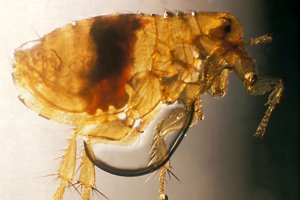 Many pets could be at risk of flea infestation as owners turn up the central heating during the colder seasons, completely unaware that fleas could have been lying dormant in the pupal stage to then emerge in search of a new host to feed on.
Nearly half of those questioned said their dog had suffered with fleas, with 79 per cent having been infected at least once a year. About 20 per cent of respondents also did not believe fleas could be found in household items, such as the carpet or dog bedding.
David Grant, hospital director of the RSPCA Harmsworth animal hospital in London, said: "Fleas are commonly found on pets during the summer months and this has been extended by the Indian summer we have experienced. It may be due to get colder soon, but as the central heating gets turned up, the increased warmth inside proves a stimulus for any fleas that are unwittingly introduced or that lie dormant in pet bedding, carpets and soft furnishings.  Moreover, people cannot even escape, with half of those questioned stating that a member of their family had been bitten by a flea."
"It is advisable owners treat pets with effective flea treatments. They should also treat the surrounding household environment, such as pet bedding, carpets and soft furnishings."
David Grant has provided his top tips on how to protect dogs from the big freeze, which includes treating and protecting dogs from flea infestation, in an informative 15-minute TV interview. If you would like to utilise the interview on your veterinary practice website, please contact your local Elanco Animal Health key account manager or telephone 01256 779881.
*Opinion Matters. 1006 UK dog owners. October 2011