Marc Abraham collects the best vet surgery award for Grove Lodge Vets at the fourth annual Burgess Wetnose Animal Rescue Awards in London.
Grove Lodge Vets from Sussex walked away with the best vet surgery award at the annual Burgess Wetnose Animal Rescue Awards.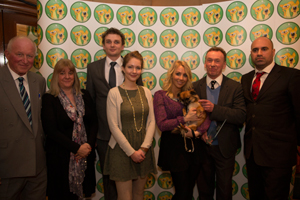 The event was held at the Jumeriah Carlton Tower Hotel in Knightsbridge on March 11, 2013 and was hosted by Wendy Turner-Webster, animal campaigner and former presenter of Channel 4's Pet Rescue.
Other celebrities at the event included Robert Powell, Anthea Turner, Michelle Collins and Neil Fox (Dr Fox) also attended.
Founded by not-for-profit organisation Wetnose Animal Aid, the annual awards recognise the work small, independent rescue centres do in caring for and rehoming abandoned and unwanted animals in the UK and overseas.
Marc Abraham, who collected the award on behalf of Grove Lodge, said: "Winning this award means greater awareness about the fantastic service Grove Lodge Vets offers our clients and their pets. This will enable more pets and wildlife to be treated and cared for, thereby making for a happier and healthier community. It will also set an example and encourage other local businesses to get involved and work together to help our community."
Wetnose Animal Aid director Andrea Gamby-Boulger said: "We are delighted to have held the fourth annual Burgess Wetnose Animal Rescue Awards to support the fantastic work that rescue centres across the UK are doing, under the radar and a lot of the time without any recognition or thanks.
"The work these independent rescue centres do is crucial for animals around the UK, and some of the rescue stories we've heard today really prove how worthwhile their work is. I'd also like to thank all the celebrities who attended; their support in raising awareness of this issue is invaluable."