The Greyhound Board of Great Britain (GBGB) and the Greyhound Regulatory Board (GRB) have announced an Independent Review of the industry's anti-doping and medication policy.
The review, to consider whether the current GBGB anti-doping and medication rules and their implementation can be improved will be chaired by Andrew Higgins.



The review panel, led by Dr Higgins, a veterinarian and doping and medication adviser to the Fédération Equestre Internationale, will comprise Professor Ed Houghton, an expert in drug detection science, Ladbrokes Stadia operations manager Gordon Bissett and independent member Peter Webbon, chief executive of the Animal Health Trust in Newmarket and a former chief executive of the Horseracing Regulatory Authority. Peter Laurie, GBGB welfare manager will act as secretary to the Panel.
Dr Higgins said: "The aim of the review is to establish the best possible system to prevent the abuse of substances or methods that could influence the welfare or performance of a racing greyhound and the integrity of licensed greyhound racing."
The panel will take evidence from representatives of those involved in greyhound racing including regulators, trainers, owners, promoters and veterinarians.
Dr Higgins continued: "The panel wants to hear from industry representatives and others who feel they have a contribution to make. Once the panel has met and defined the framework for the review, a formal request for evidence will be issued."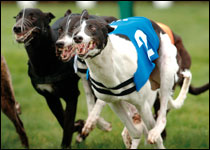 Ian Reynolds, chairman of the GRB who jointly commissioned the review with GBGB chairman Maurice Watkins, said: "I am pleased to jointly announce with the GBGB this Review. This provides a valuable opportunity for industry stakeholders to submit written and oral evidence in confidence that will be used to advise and shape future regulatory strategy. I must thank Dr Higgins for his commitment in leading the Review, the results of which I eagerly await."
Maurice Watkins added: "The board recognises the need to consult with stakeholders to develop policy in this critical area."
The review is expected to present its findings to GBGB and GRB in January 2010.