The British Union for the Abolition of Vivisection (BUAV) has "stronglycondemned" the biggest year on year increase in animaltesting numbers since 1987.
According to BUAV, the figure for the number of procedures conducted on animals is now set at 3,656,080 million, which is the highest it has been since 1982. Figures released today by the Home Office reveal that 3,583,223 animals were used in tests in 2008, an increase of 14 per cent on the previous year.
Mice, rats and all other rodents together accounted for the majority of procedures – 77 per cent of the total.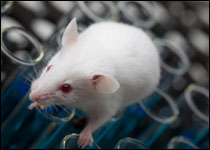 Reason for increase:
The most significant increases have been an increase in procedures for the breeding of genetically altered animals (up 19 per cent), pharmaceutical testing (up 20 per cent) and fundamental research (research without a particular therapeutic application) (up 17 per cent)
Key points:
A 7 per cent increase in the number of primates used, to 3,354 animals
An increase in acute lethal tests (i.e. where animals die as a result of being poisoned) of 11 per cent to 96,518 procedures
An increase in studies causing physical trauma, such as spinal damage of 159 per cent to 12,851 procedures
As many as 65 per cent of procedures (2,377,791) were conducted with no general or local anaesthetic (this is an increase from 61 per cent in 2007)
Household product testing is still going on: 132 procedures specifically for household products were carried out (there was only one procedure in 2007), many thousands are still used for chemicals that may end up in household products.
Public opinion:
Despite overwhelming public concern and growing pressure for an outright ban, the UK conducted tests on 3,354 primates, our closest genetic relatives. There was an increase in macaques to 3,092 animals (23 per cent).
Furthermore, 252 horses, 11,916 rabbits, 29,250 guinea pigs, 4,271 dogs and 176 cats were subjected to distressing experiments.
This "shocking increase" comes at a time when the legislation governing animal experiments across Europe is being revised. The welfare of animals is a major point of concern amongst European citizens.
According to BUAV, very large majorities of respondents to a recent opinion poll (carried out in six representative EU countries, including the UK, by YouGov) opposed all experiments causing pain or suffering to primates, cats and dogs and those that do not relate to serious or life-threatening human conditions. Other surveys show that very many oppose even these experiments. It is clear from the statistics that millions of animals are used in painful experiments which have little to do with finding the cure to life-threatening or serious human conditions.
BUAV chief executive Michelle Thew said: "This shocking rise in the numbers of animals subjected to experiments is an outrage. This is the seventh year of consecutive rises in the number of animals used.
"There is clear public concern on this issue. The UK claims to have the tightest regulation on animal testing in the world but it is clear that this is empty rhetoric. We should be leading the way in reducing animal testing, not inflicting even more pain and suffering. Unfortunately, these latest statistics show there is a long way to go, The Government must start listening to the public and put a stop to all this appalling animal suffering."
To read the full Government report, click here.


Image ©iStockphoto.com/dra_schwartz