A package of measures to tackle welfare and irresponsible dog ownership has been announced today (February 6, 2013) by environment secretary Owen Paterson.
A package of measures to tackle welfare and irresponsible dog ownership has been announced today (February 6, 2013) by environment secretary Owen Paterson.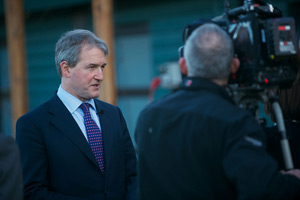 The measures are based on results of a 2012 consultation, which saw DEFRA propose a number of possible measures to encourage more responsible behaviour and deal with the consequences that irresponsible dog ownership has on the general public.
Following an "overwhelming reaction" to the consultation, which saw more than 27,000 responses, Mr Paterson today announced he was publishing the results of the consultation, including a proposed way forward on the issue.
Speaking this morning at Dogs Trust Harefield, Mr Paterson introduced a raft of new measures, which include:
Microchipping of all dogs. As of April 6, 2016, all owners will need to have their dog chipped and registered on an authorised commercial microchip database. Owners will also be required to ensure contact details are kept up to date, and will have to register details of any new owner before they sell or give the dog away.
Amendments to the Dangerous Dogs Act. As well as maintaining a ban on certain breeds of fighting dog, DEFRA is working closely with the Home Office and other authorities to introduce new powers to help frontline professionals tackle anti-social behaviour involving dogs. Measures proposed in the draft Anti-Social Behaviour Bill published in December 2012 will provide a set of flexible, effective tools and powers to enable police and local authorities to tackle a wide range of anti-social behaviour, including dog-related incidents.
Seizure and kennelling of suspected dangerous dogs. To ensure the welfare of suspected prohibited dogs and to ease the substantial costs to the police service, it will no longer be necessary for the police to seize and kennel such dogs pending the outcome of court proceedings if the police do not consider the dog a risk to the public. However, the police will be allowed to put extra restrictions on the owner (e.g. requiring the dog to be muzzled and on a lead when in public).
Dangerous Dogs Index Fee. DEFRA has proposed to raise the fee payable by the owner for placing prohibited dogs on the Index of Exempted Dogs to £77 + VAT from the level set in 1997 (£20 + VAT).
However, as irresponsible dog ownership is "a complex problem with no single solution" the Government is also implementing other measures to address the issue.
According to Mr Paterson, the primary responsibility for ensuring that dogs are kept under proper control must rest with individual owners. With this in mind, the Government has provided funding of £50,000 – shared between the RSPCA, Battersea Cats and Dogs Home and the Dogs Trust – to foster community projects to encourage responsible dog ownership in areas with high instances of dog-related problems.
Funding has been given to the Association of Chief Police Officers to support the training provided for officers with knowledge of dog control legislation, in order to ensure a centre for such expertise in every police force.
To address another key concern, DEFRA is also working closely with the animal welfare charities to develop codes of conduct for website operators and to provide guidance for buyers on the potential pitfalls of buying pets from the internet.

Images ©DEFRA