Neil Parish MP has hosted an event at the House of Commons alongside NOAH celebrating the benefits of pets to children and young people. However, he also warned of those pets who are not looked after properly.
NOAH and the Government have celebrated how pets bring support and joy to the lives of children at a special event at the House of Commons.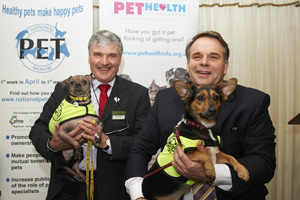 NOAH's Pet Event – held on November 20, 2013 and hosted by Neil Parish MP, chairman of the Associate Parliamentary Group for Animal Welfare (APGAW) – provided an opportunity for charities and individuals to tell stories about how animals help children and young people with their physical, educational or psychological needs.
However, guests were also reminded that not all pets are looked after properly and that some owners fail to meet the five welfare needs of animals.
Mr Parish said: "As the proud owner of a Labrador, I know that our pets really are members of the family. As such, it's important we look after their health, just as much as we do our own. That means not only caring for them when they're sick, but helping prevent this from happening in the first place."
Mr Parish also called for "specific reference" to the five welfare needs to be included in the new primary school curriculum to "ensure that far more children leave school with a basic understanding of how to care for and respect animals".
Meanwhile, Phil Sketchley, NOAH chief executive, spoke of the office's campaign to improve preventive health care in pets.
"NOAH has been looking at new ways of raising awareness of pet owners of these welfare needs for pets," said Mr Sketchley. "NOAH's new 'I love my Pet' campaign, it is hoped, will get owners thinking about the health of their pets as well as having fun with them.
"With the campaign's flagship seasonal tips, advice and activity calendar and emphasis on social media, NOAH will be aiming to make sure owners have expert advice and information they need to help keep their pets healthy all year round."