Bristol Zoo Gardens is hosting a series of talks in support of the world-wide Year of the Gorilla campaign.
The autumn events offer a unique opportunity to hear fascinating first-hand personal experiences from world renowned gorilla experts.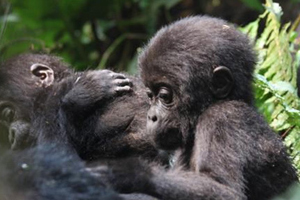 The first talk, called Gorillas: Survival or Extinction is a chance to hear Ian Redmond OBE, Ambassador for the UNs Year of the Gorilla, give his views on the future of these amazing animals.
Ian Redmond is a tropical field biologist and conservationist, renowned for his work with great apes and his work with the late Dian Fossey. The event takes place on September 30, from 6.30pm 9pm.
The next event, on November 7, is called My life with gorillas by animal welfare hero, Rachel Hogan. Rachel has dedicated her life to to raising orphan primates in Cameroon, Africa, whose families have been slaughtered by hunters as part of the illegal bushmeat trade.
Rachel manages the 1,044 hectare Mefou National Park ape sanctuary on behalf of Ape Action Africa, a UK charity which works closely with Bristol Zoo Gardens. Last year she received an Animal Action Award by the International Fund for Animal Welfare (IFAW). Rachel, star of Animal Planets Growing up Gorilla and Going Ape series, will be speaking of her experiences in Cameroon.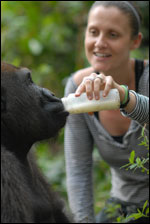 The final talk in the series, on Thursday November 26, sees Bristol Zoos head of veterinary services, Sharon Redrobe, talk about her experiences working with gorillas in zoos and in the wild.
Sharon is a specialist zoo vet who lectures internationally on zoological medicine. She has been the head vet at Bristol Zoo for 10 years and will be discussing her fascinating and ground-breaking vet work with gorillas both at Bristol Zoo and in Cameroon.
All talks will be held in The Pavilion at Bristol Zoo Gardens from 6.30pm 9pm. Tickets are 4/person (3/student). Availability is limited so advance booking is advised. To book phone 0117 974 7300 or email receptionist@bristolzoo.org.uk.