The first coordinated global strategy to protect the okapi from extinction in the wild has been published.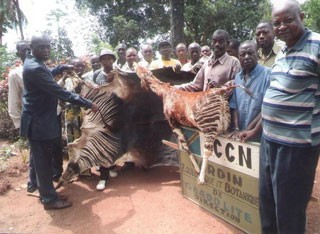 The 10-year strategy, guided by a detailed review of the species' status through a multi-partner conservation effort, calls for urgent government and international commitment to support the integrity of key Congolese protected areas from armed militia and illegal extractive activities.
Safeguarding
In 2012, an attack on the Okapi Wildlife Reserve headquarters in the Democratic Republic of Congo led to the deaths of seven people, including an Institut Congolais pour la Conservation de la Nature (ICCN) ranger, as well as all 14 okapi housed at the facility.
Key to the plan, overseen by the Zoological Society of London (ZSL) on behalf of the International Union for Conservation of Nature (IUCN) Species Survival Commission (SSC) Giraffe and Okapi Specialist Group and ICCN, will be safeguarding the Okapi Wildlife Reserve.
Security concerns
The strategy's lead author ZSL's Noëlle Kümpel, who is co-chairman of the IUCN SSC Giraffe and Okapi Specialist Group, said: "There are still enormous gaps in our knowledge of these creatures, in a large part because security concerns across their range have prevented survey teams getting on the ground. But what is clear is the unprecedented pressure and range of threats now facing these rare and amazing animals.
"This global strategy provides a clear roadmap for joint action to bring them back from the brink of extinction, tackling these wider threats so we can focus on specific actions to better manage and monitor the okapi, such as SMART (spatial monitoring and reporting tool) technology."
The strategy supports repeated calls from the World Heritage Committee, NGOs and investors to uphold commitments to safeguard natural World Heritage sites from the extractive industry.