Dog lovers are attempting to raise £50,000 to build a memorial play park especially for dogs in Redcar in memory of two local animal cruelty cases.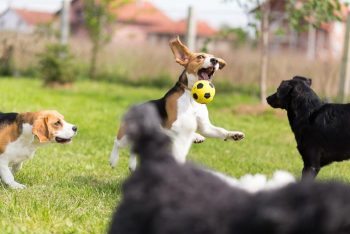 A JustGiving page has been set up by fund-raiser Carl Quartermain, whose aim is to create a park with "the appropriate infrastructure, exercise equipment, security, benches, a dog friendly café and appropriate dog bins".
If successful funded, the memorial play park would become only the second dedicated dog play park in the UK, reports claim. It would stand as a memorial to Baby and Scamp, two Redcar dogs whose tales of abuse hit headlines during 2016.
Shallow grave
Earlier this week, two Redcar men were each jailed for four months after attempting DIY euthanasia by hammering a nail through the skull of an elderly terrier then burying it alive.
Walkers heard the dog, Scamp, whimpering from its shallow grave and dug it out alive, but vets had to euthanise it due to its horrific injuries.
In May 2016, two Redcar brothers were given suspended jail sentences after filming themselves kicking, stamping and throwing their pet bulldog, Baby, down the stairs.
Harsher sentences
The RSPCA and Battersea Dogs and Cats Home have each called for far harsher sentences to be imposed for animal cruelty cases.
The maximum sentence for animal cruelty under the Animal Welfare Act 2006 is 6 months in prison in England and Wales, and 12 months in Scotland – compared to 2 years in France, 3 years in Germany and 5 years in both Ireland and Northern Ireland.
A private members' bill by Redcar MP Anna Turley seeking to increase the maximum sentence in England to five years was recently filibustered in the House of Commons.