The European Commission is offering free copies of its "Travelling inEurope" leaflet for display in veterinary practice waiting rooms.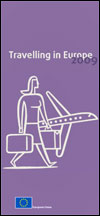 The leaflet has been created for anyone who might be planningtravel within the EU and includes practicaladvice and helpful tips on a wide range of subjects, including travel documents, consumer rights and general tourist information.
The leaflet also dedicates a section to travelling abroad with your pets – specifically the issue of pet passports.
A pdf of the leaflet can be downloaded here . For further details, visit http://europa.eu/abc/travel/index_en.htm
Alternatively, you can order hard copies of the leaflet by contacting Vicky Morrison ( vicky.morrison@euresin.eu ) on 0032 475 976 652.