The first dry pet food made using whole British free-range chicken has been launched by new brand McAdams Pet Foods.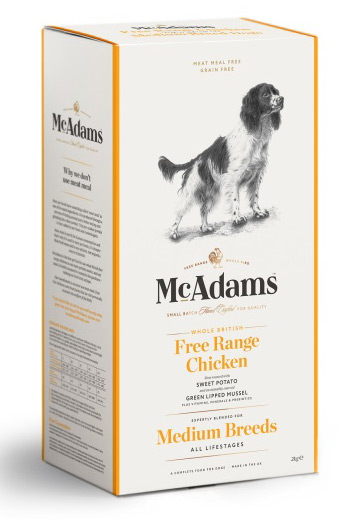 The product is grain and meat meal free and is the first and only dog food to use whole British free-range chicken from ethical farms across the UK.
The entire bird, minus head, feet and offal, is used in the making of McAdams, the company says.
McAdams is slow roasted, then warm air-dried and not extruded like most dry pet food, ensuring flavour and aroma are maintained and creating a non-uniform, rustic shaped kibble. The cooking process seals in as much goodness as possible.
The whole free-range British chickens used in McAdams are blended with sweet potato for slow release carbohydrates, green-lipped mussel for joint care and a variety of fruits and vegetables to give dogs the vitamins, minerals and nutrients needed for a healthy life.
In a taste test conducted by McAdams, the product was the dogs' first choice in more than 70% of feeding trials. Owners were impressed by the "roast dinner" smell and liked the unique shape of the kibble, stating it made their dogs chew their food properly and eat more slowly, aiding good digestion.
Neil McAdams, creator and managing director of McAdams Pet Foods, initially set out to create healthy, ethical and tasty food for his Labrador retriever George, which suffers with epilepsy and a heart condition.
"I wanted to feed George the best food possible, but wasn't happy with the quality of dog food available," he said.
"After two years of research, tests and determination, I have created something George loves and is made using only the best ingredients available today. I am extremely proud to be launching McAdams as an ultra-premium brand into the pet food market, for dogs all over the country to enjoy."
From humble beginnings in a Sussex country kitchen to becoming a nationally sold product, McAdams can be purchased online and at 15 Pets Corner stores across Sussex and Kent, as well as in the Fifty Sheep Pet Supplies shop in Lewes, East Sussex.
The brand will be launched into all Pets Corner stores across England from mid-November.
For more information, visit www.petscorner.co.uk