A dog found dumped in Bradford has had his sight saved thanks to the skill of vets at the Watkins and Tasker Veterinary Group near Bristol.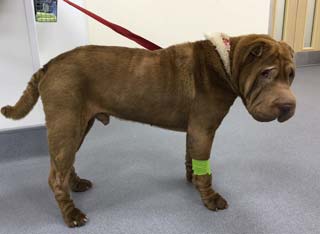 Hector the Shar Pei was taken in by Halfway Home Dog Rescue in Nottinghamshire, but staff soon became concerned about the condition of Hector's eyes and an emergency appeal was launched to raise funds for an operation to save his sight.
Various health issues
The Shar Pei breed suffers from various health issues, including breathing and kidney complaints. The dog's very wrinkled appearance can also cause skin issues and, as with Hector, the eyelids can roll inwards towards the eye, eventually rubbing on and damaging the front of the eyeball itself, leading to pain and sometimes permanent damage.
Hector's story was spotted by vet Steve Tasker, who has a lot of experience with this breed. He said: "I first became interested in Shar Peis while working as a young vet in Edinburgh 20 years ago, but they were not that common at that time.
"However, over the years I have seen their popularity increase. We now see many Shar Pei clients, both from our area and from further afield, as folk seem willing to travel to seek the services of a veterinary team that is familiar with the breed. Hector's case is sadly quite common and one I felt could not be ignored."
Entropion surgery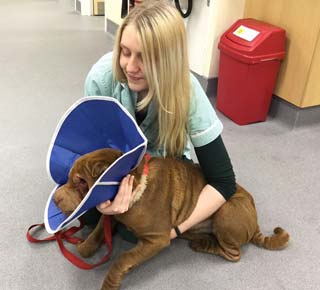 There is a surgical solution called entropion surgery – not unlike a human facelift to remove excess eyelid tissue, which allows the eyelid to sit in a more normal position and gives immediate relief from the pain these dogs endure.
With this in mind, Mr Tasker contacted the centre's founder, Val Hosegood to see if they could help.
Enjoying life again
Ms Hosegood said: "I received the call from Watkins and Tasker Vets telling me that Steve could undertake Hector's surgery for free with any money raised being used for his aftercare.
"The surgery took place in December and Hector's improvement has been amazing, he is out of pain, and for the first time since he's been in our care he is playing with toys and enjoying life. He is set to move to his new home shortly"
Mr Tasker added: "We had the expertise, availability and opportunity to make a real difference for Hector and hopefully have given him a real chance of a happy future. We are thrilled to hear about his progress and wish him well."