Latest parasite forecast from NADIS predicts heightened risk for NI and Scotland, but medium risk for rest of UK.
Farmers and vets working in parts of Northern Ireland and Scotland should remain alert for liver fluke in their cattle, according to the latest parasite forecast from the National Animal Disease Information Service (NADIS).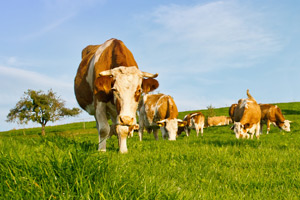 According to the forecast, a high level of autumn liver fluke disease is predicted in northern and western Scotland and Northern Ireland, areas that have seen a wetter summer than the rest of the country.
Farmers and vets working in these areas should therefore be treating cattle now rather than later, according to Merial Animal Health, which sponsors NADIS' parasite forecast.
The company's veterinary advisor Fiona MacGillivray said: "In cattle, it's the adult stage of the parasite that has the greatest impact on productivity, reducing feed intake by 15%. Recent research suggests around 97% of fluke in cattle at housing are late immature or mature, so delaying treatment makes poor financial sense.
"Many farmers don't recognise the effect of fluke in cattle, since it is often a sub-clinical disease. However, depressed appetite, poor feed conversion and a reduction in liveweight gain of up to 1.2kg per week leading to increased finishing times make liver fluke disease an expensive problem on some farms.
On the brighter side, the overall forecast for fluke disease is predicted to be lower than in 2012, but wetter areas may still present an unexpectedly high risk, said the forecast.
EBLEX has calculated that the cost of liver fluke disease to producers is between £25 and £30 per head, while the financial impact of fluke on the cattle industry has been estimated of being in excess of £31m.
The forecast also points out that September is often the peak month for cattle lungworm, with naïve and unvaccinated grazing cattle being most at risk.
For more information, visit NADIS' website.