Court dismisses points of law questions from legal team of husband and wife James and Julie Grey after 2008 finding of more than 100 horses in terrible conditions at Buckinghamshire premises.
A case where more than 100 horses were found in dreadful conditions at a property in Buckinghamshire has finally ended more than five years after it began.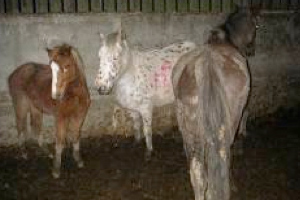 On March 12, the High Court of Justice dismissed five questions about points of law by the legal team for James Gray and Julie Gray – who in 2008 were found to be keeping more than 100 horses in terrible conditions as well as the bodies of 32 dead horses – finally ending a case that has cost the RSPCA £2.4m in boarding, veterinary, transport and legal fees.
Mr Gray, a horse trader previously of Spindle Farm, Chalk Lane, Hyde Heath, Amersham, was originally convicted in May 2009, at Central Buckinghamshire Magistrates' Court in Bicester, of 11 offences under the Animal Welfare Act 2006 after RSPCA inspectors raided his premises.
His wife Mrs Gray meanwhile was found guilty of failing to meet the welfare needs of some of the horses.
For each of the charges Mr Gray was sentenced to 24 weeks in prison and was disqualified from keeping, dealing in or owning horses, ponies and donkeys for life. He also had to pay £400,000 in costs. Julie Gray was sentenced to a community order, a disqualification order and the payment of £750 in costs.
However, both appealed their sentences. Mr Gray's was dismissed by Aylesbury Crown Court and was ordered to pay an extra £200,000 in costs while Mrs Gray's appeal also failed. She was ordered to pay an extra £200,000 in costs.
RSPCA deputy chief inspector Kirsty Withnall, who investigated the original case, said the charity was pleased the case had "finally been brought to a conclusion".  
"The defendants in this case consistently refused to sign over the horses, costing the RSPCA hundreds of thousands of pounds in boarding and veterinary fees as we were unable to rehome them for two and a half years. This also denied the animals the chance to settle into new homes for the entire duration of the case and appeal."
The charity also said the vast majority of the rescued horses are now in new homes.